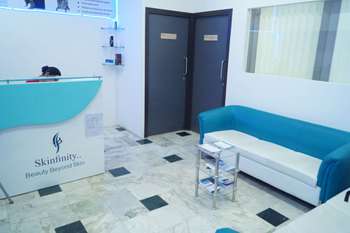 2019-06-15 01:34:06 UTC
Problem getting benefits?
Write to us and we will get back to you within an hour.
Skinfinity Skin Hair & Laser Clinic
Skinfinity Skin Hair & Laser Clinic located in Sector 39, Noida is committed to provide treatment to patients in skin care, hair care, laser treatments, anti-aging treatments, medicated facials, cosmetic surgery etc. Patients' safety, privacy, comfort, well-being and satisfaction are their very first priority. They also specialize in offering a range of proven, safe highly successful medical services and use quality products. Treating the root-cause is thier main approach. Be it skin infections, or chronic diseases, or the pigmentation that masks your rosy skin or the hair that does not do you justice, this is your one stop solution for any little thing that bothers you about your external, or internal beauty. Head to Skinfinity Skin Hair & Laser Clinic and walk out with enhanced beauty and self-confidence like never before.